Oh you guys I'm so nervous to share this version of our TTL blog hop. As you may remember from our last Thrift the Look challenge, Sarah, one of our admins from the Creative Vintage Darling's Facebook group and blogger extraordinaire at Sadie's Season Goods, challenged us to 'thrift the look.' In this blog tour we want to show you how a magazine worthy look can be achieved with items from the Thrift Shop! As Sarah says, it's "thriftcheivable!"

This go round, we all decided to do our own version of 'cottage.' For me, my dream would be an English countryside cottage complete with garden. Having the freedom to TTL of our dream cottage sounds like it might be easy but in reality – I fell in to an old Heather trap where I try to cram something into a box that doesn't fit. You see, this house is pretty modern and pulling off English country without wall paper or wood beams or paneled walls just wasn't going to happen. Then I found this image from Cottages and Gardens.
Okay, maybe I could do this after all. This is not an English garden cottage, but rather a Tranquil East Hampton Cottage. Still, the vibe was right. As I began to take inventory of the items I might need I realized that the portrait would be the hardest part.
I searched and searched for a piece of artwork, even if it wasn't a portrait, that would work and I found nothing in my travels through thrift shops here and there. In the midst of it all, we experienced a great sadness in our family – my Grandmother passed away of pancreatic cancer. I can't really bring my thoughts around this into words, it's still very new and it's hard to even believe it happened. I put the challenge aside at this point and nearly gave up altogether.
After the funeral and my arrival back home, I started sketching a photo of her just to see if I could get anywhere close. It was very intimidating 1) because I wanted to do my beautiful Grandmother justice and 2) because this photo of her was taken by my Grandfather who was a pro photog for the RCAF in his day! It was taken shortly after (or perhaps before) they were married 65 years ago in England. I kept at the sketch and then began to go at it with watercolour and while there is much I'd love to change about the finished image, I'm happy with where it landed. Painting a portrait of her was such a therapeutic way to spend time with her memory.
I admit, the rest of the vignette falls a little short in my eyes. While over all, I think the vibe is there – I might have done a few things differently were I to do this one again. It's plain to see that all my attention was focused on one thing. And rightly so, I suppose.
I found several decanters in my hunts through the thrift shops as well as this ice bucket that I really quite like! Instead of purchasing the sparkling water which we don't really enjoy, I used this green bottle as a stand in. Instead of purchasing lemons, I used the fruit we had on hand, and instead of the roses (or are they peonies?) from the inspiration image, that would cost me likely $150, I chose a cheap and cheerful bunch of yellow carnations for $12. After all, the goal is to be thrifty and not to buy new exactly what's in the photo. Right?
A few other items of note – the milk glass I've been collecting for ages -while I had purchased another pitcher to use for the flowers that was more like the urn in the inspiration pic, I didn't like it in the end. It was just wrong and clunky and this vignette called for something a bit more elegant. The milk glass was better.
And while I couldn't find a huge shell, I did find a similar small one that was actually a night light! I piled two of my kids' shells in there for a grouping that I like a lot.
The rattan texture in the inspiration photo was not lost on me and that was another struggle! To find a piece that would go well with one of the two tables I had in mind for this project wasn't easy. I started snagging them here and there on the chance that one might work. I really like the tray I ended up with on top and I was able to use my back up piece on the bottom tier. The table is one you might have seen before as it was a quick $10 DIY project from a few years ago.
One might think painting a portrait instead of finding one in the thrift shop is cheating, and you know? I'd sort of agree, but I wouldn't change the outcome for anything. I did find the frame in the thrift shop and I'm so glad because even though it wouldn't have been my first choice, the mats were what made me choose it. They were of such good quality and the perfect colours. While I had another thrift shop frame I loved more, the mats were in poor condition. I had taken it into Michaels to see if I could get the mat replaced and they quoted me $180! I could have been blown over by a puff of wind I was so flabbergasted! "Forget it," I told the clerk, "I'm just going back to the thrift shop." And that's what I did. $20 later I had my image framed and hanging on the wall!
Inspiration from Cottages and Gardens

My Thrifted Look!
I will admit that this round of Thrift the Look was very difficult for me, but it just proves beyond a shadow of a doubt, that you can use an image out of a magazine as inspiration, and then find everything you need to create the same feel at your local thrift shops! Had I had more time, I'm sure I would have come across a portrait or other piece of suitable artwork. I'm also sure I would have come across a better wicker tray to fit my oval table – or perhaps even a better oval table than the one I was going to use. As it turned out, I just couldn't get my shapes right in the time frame. I had to go with the rectangular table. But that's the beauty of thrifting – over time, things evolve and you eventually end up finding just the right thing.
Now, please go and visit the other TTL participants! They have more hunting stories to regale you with and I'm sure a few tips and tricks up their sleeves! Thanks so much for visiting me and thank you again to Sarah for putting this hop together – it's absolutely my favourite one to participate in!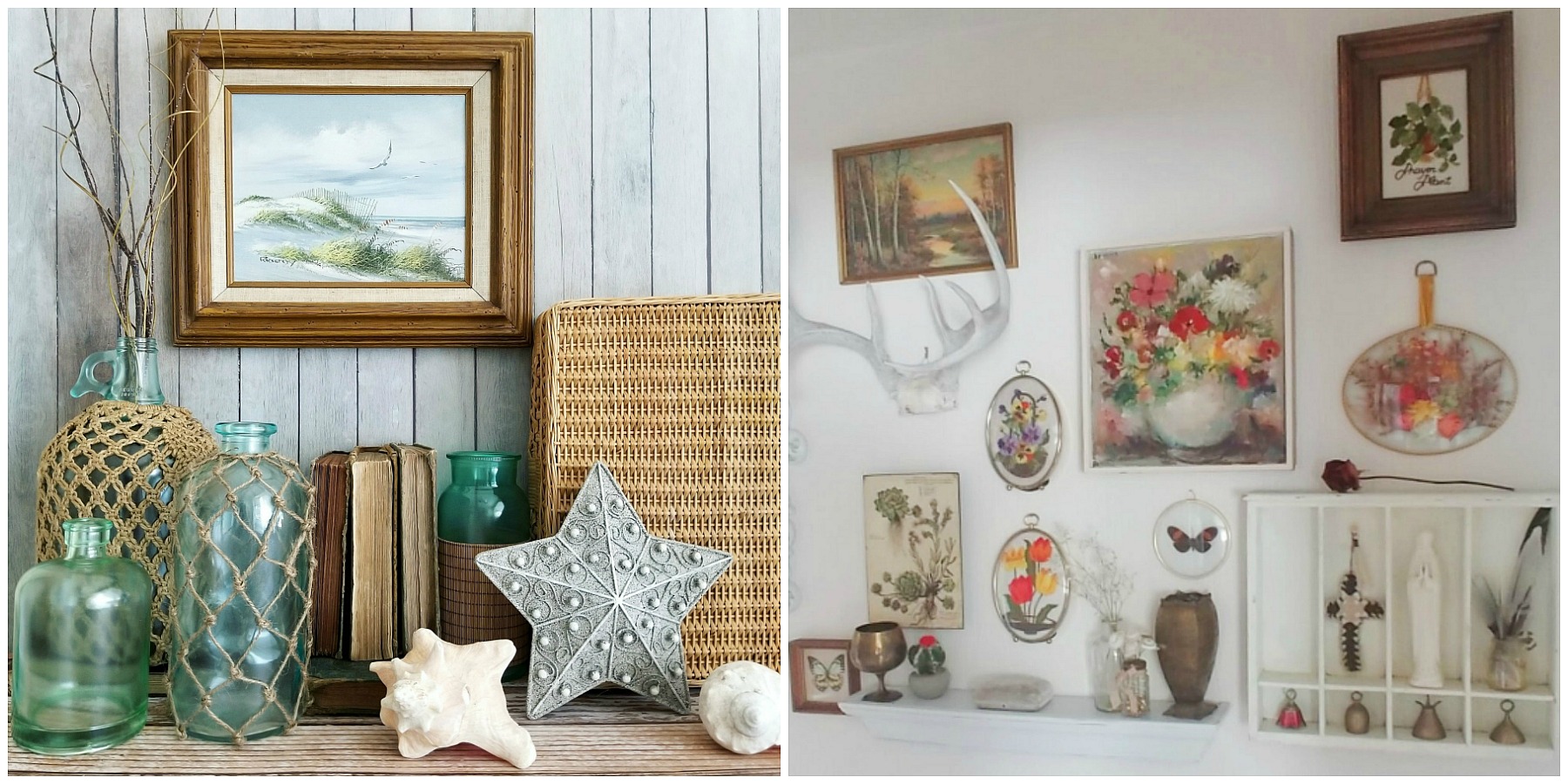 Sadie Seasongoods | Little Vintage Cottage

Home to Heather | Itsy Bits and Pieces | Audrey Would Vintage Home