Sarah, one of our admins from the Creative Vintage Darling's Facebook group and blogger extraordinaire at Sadie's Season Goods, challenged us once again to Thrift the Look. We were asked to usher in spring with some garden inspired decor. This time however, our challenge has a twist as do all things happening in March of 2020. Finding an inspiration photo to recreate with items I already own was just not working out for me. For the last few weeks I've been staying home to flatten the curve and not hunting the thrift shops.
Instead of choosing an image from a magazine, I figured I'd do an in depth tour of my plant corner because there are only a few items that were purchased new. Everything else is thrifted or found at an antique shop or scored off Facebook Marketplace so if you were interested in re-creating your own planty corner with second hand finds and items you already own I hope you can find a bit of inspiration here and can we just take a moment to admire the Stromanthe Triostar (bottom right) because she is looking LUSH.
Let me say that I've never been so grateful for my plants as I am right at this moment and if you'd like detailed info on how I care for them, see my houseplant care guides. While we are cooped up in our home as a family unit, having greenery and things to nurture other than ourselves provides such a sense of calm. It's easy to forget the ails of the outside world when the inside one is so beautiful and lush. (Far left: Monstera Deliciosa)
The stone-wear crocks housing the two monsteras on the left were found on FB marketplace for a steal. If you don't have these, wicker or canvas baskets are easy to find online, inexpensive and lend a lovely bo-ho feel to your interior. The filing cabinet they sit next to was also a FB marketplace treasure.
This lovely bust lady head planter is one of the new items but she has an old world charm that can't be beat. She's available on Amazon (aff link.) and my angel wing begonia looks so whimsical inside. Our lady sits atop some antique books I found about 2 years ago in a thrift store and those sit on top of an antique typewriter that I've had for about 10 years. I absolutely love layering pieces to add interest, texture and height. Stacking things up can sometimes feel cluttery so I do it with purpose and intent. When it works, it works so darn well it thrills me. A copper clock and McCoy planter were also found at the thrift as was the vintage ceramic botanical wall pocket on the right.
More clocks and McCoy sit in front of the typewriter as does some milk glass. Milk glass is one of those staple thrift shop items you can count on finding and using it with my plants is a no-brainer. If you put out a call on Marketplace for some, I'm sure you'd find a few. Porch pick ups and e-transfers are a great way to acquire items while keeping distance.
Again, I've layered things and I think terra cotta pots go with milk glass so well. It's a clash of texture that provides wonderful interest. Tucked behind, is a green and brown pot from the thrift shop – a classic ceramic piece. You might notice another clock and some antique bottles for propagating plant cuttings as well.
Moving up to the wall you'll find a DIY shelf project from the beginnings of our Creative Vintage Darlings group. On the shelf is a thrifted book, one clock I was given of my grandparents and one I bought in the plastic baggie section of the thrift shop. More terra cotta texture works well with the rope hanger on the shelf. The blue wall planter on the upper left is one of the new pieces and the bee needlework piece was done from a kit.
Thanks so much for peeking in on my thrifty planty corner. It gives me invaluable peace at this turbulent time in our history and I hope it inspires you to look at what you have, layer it up, find a piece or two on FB marketplace (whilst responsibly social distancing please!) and enjoy staying in. If there's one lesson I hope all of humanity can re-learn through this it's to re-evaluate what we need, use what we have and just make do.
If you'd like to know the names of all the plants shown I've put together a short video (I am no youtuber! haha man, that's not easy…) below. Have a watch.
Be sure to visit the other Thrift the Look participants below! Some got to work before all the insanity hit so they followed the traditional format and others are winging it like me – either way, their work is an inspiration. Go let your eyes wander.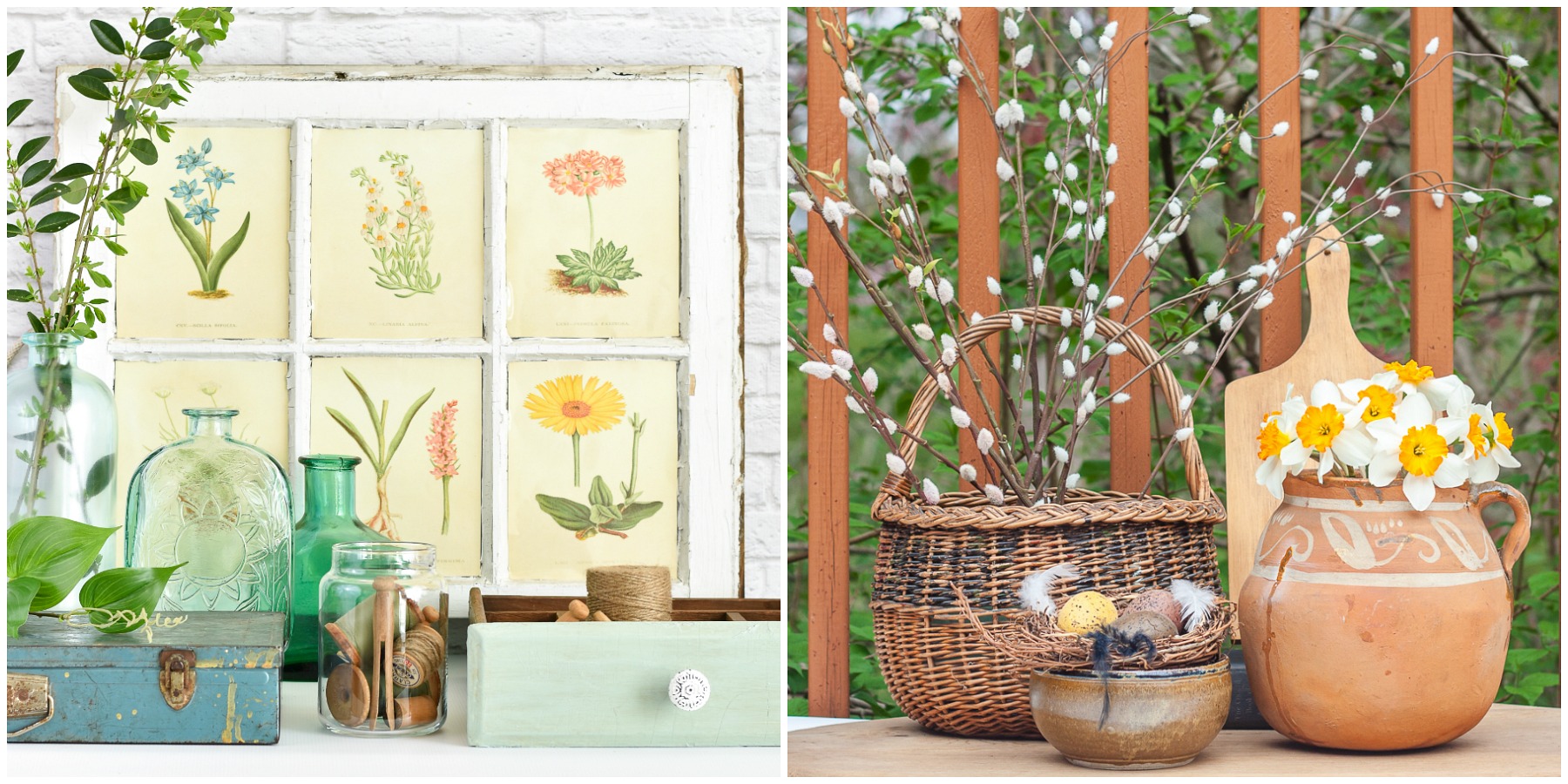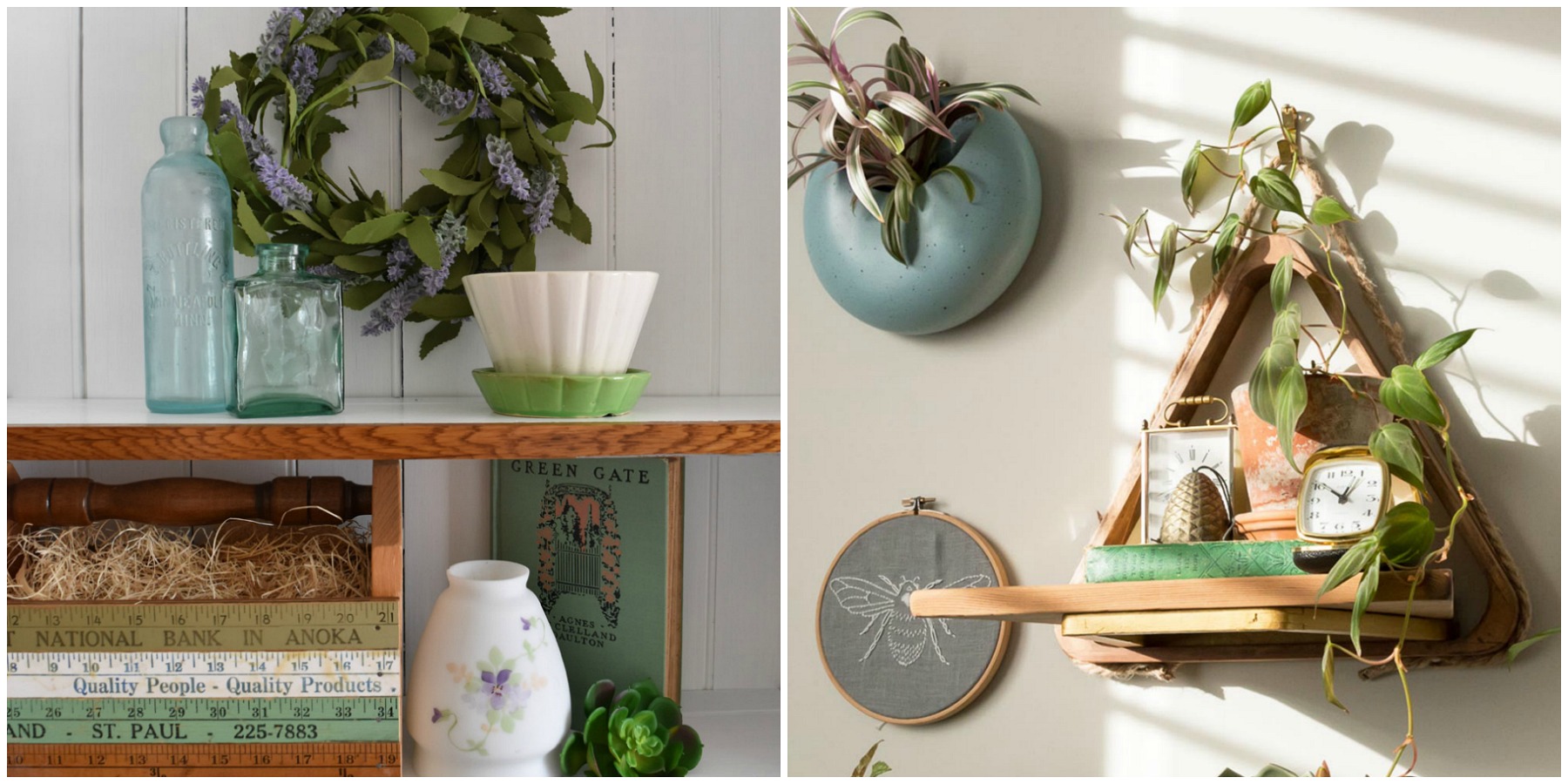 Lora B. Create & Ponder | Home to Heather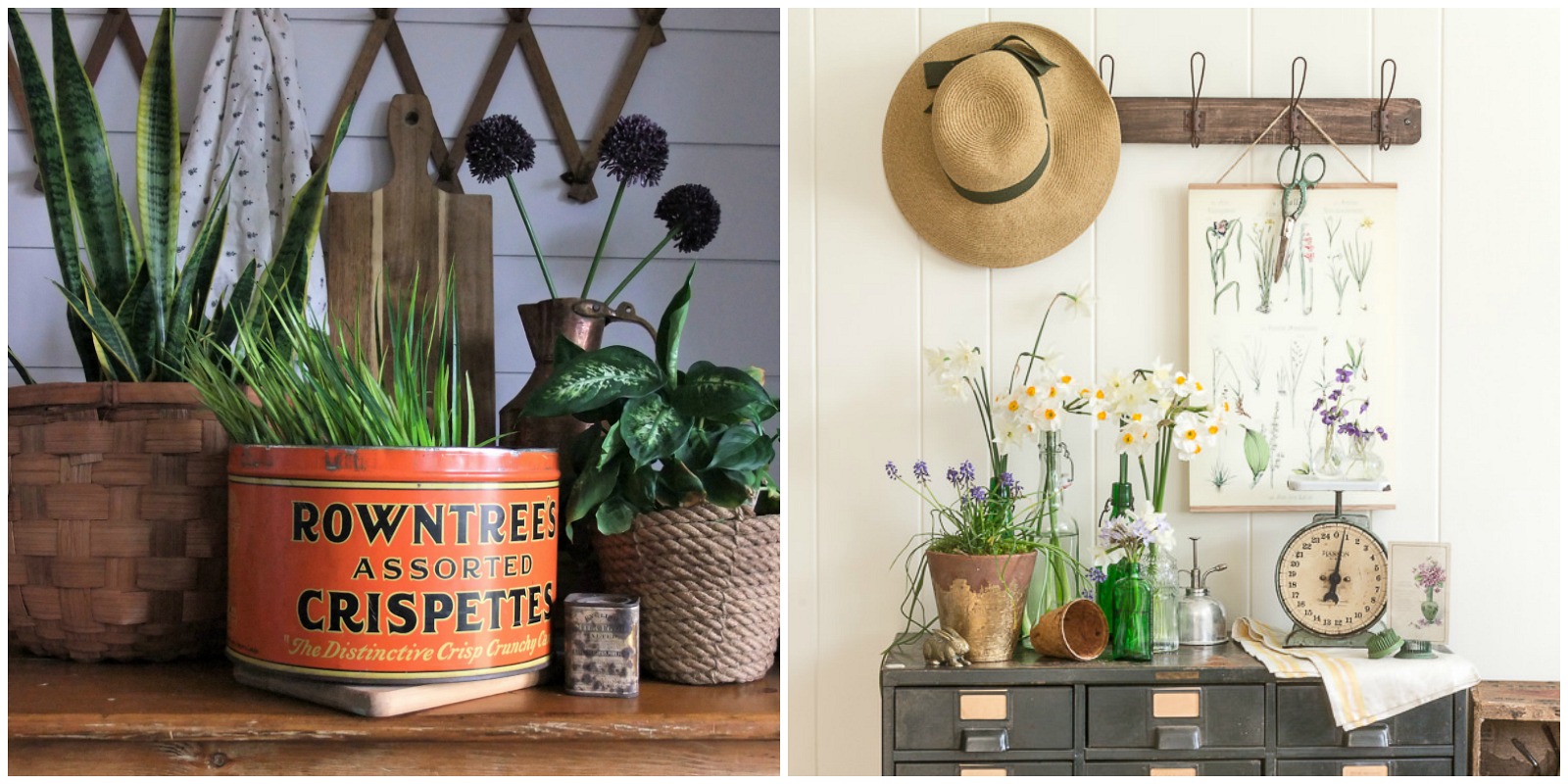 One House, 2 Barns | Postcards from the Ridge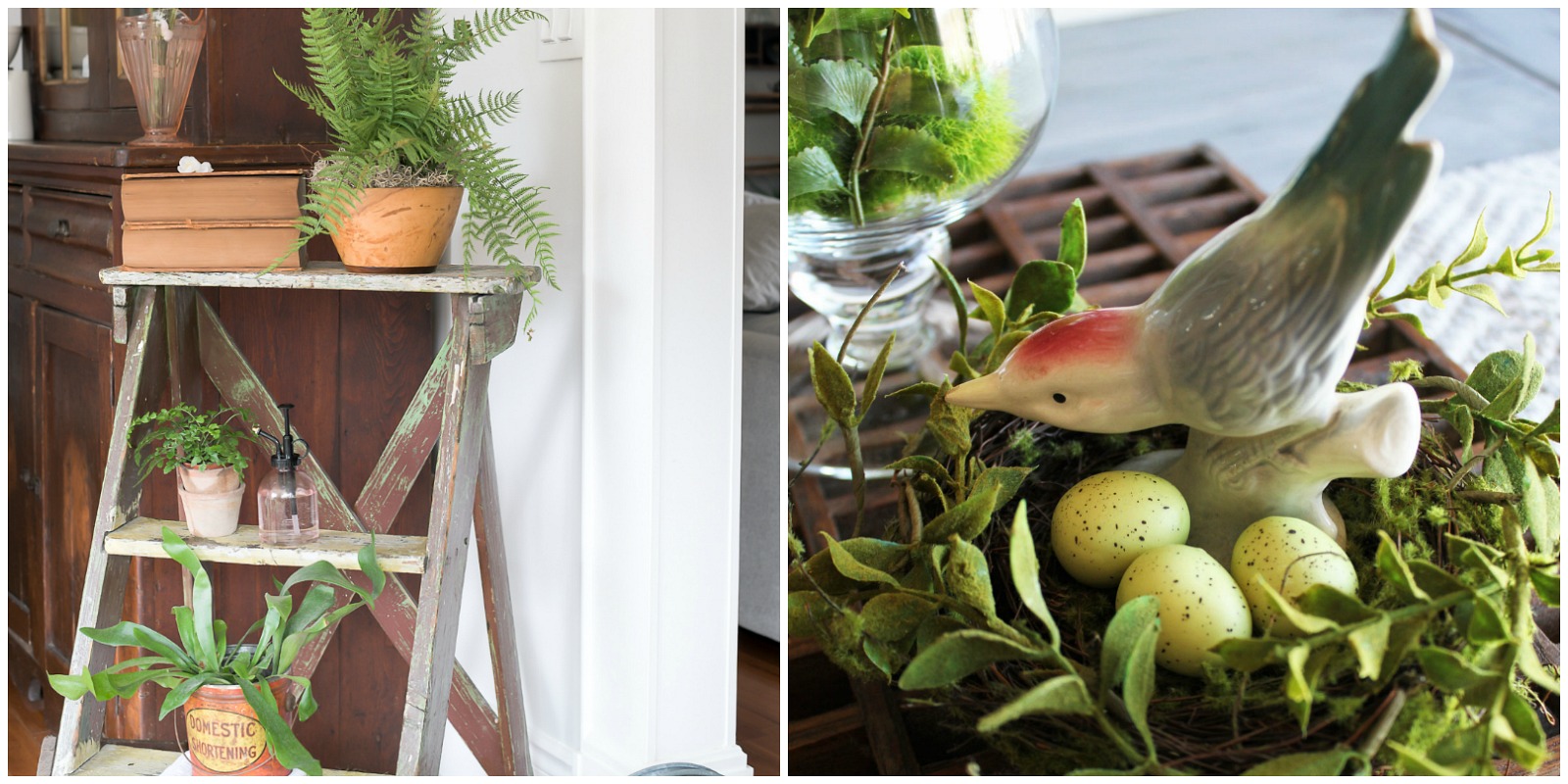 Vin'yet, Etc. | Itsy Bits and Pieces
Get more inspo on Decorating with Plants and 10 tips to make it easier!