The other day I asked my 8 year old daughter to grab her favourite chapter books from her room. She is in grade 3 and loves a variety of books to read. From silly graphic novels to long and involved stories, she just loves to read and I often have to remind her to put the book down when it's time to go to sleep. I thought I would share her top picks in children's novels from her shelf, in case you needed some ideas for the next time you find yourself wandering the bookshop.
The one and only Ivan
by Katherine Applegate
From the Cover: "Ivan is an easygoing gorilla. Living in a shopping mall, he has grown accustomed to humans watching him through the glass walls of his domain. He rarely misses his life in the jungle. In fact, he hardly ever thinks about it at all. Instead, Ivan thinks about TV shows he's seen, his friends Stella and Bob, and painting.
Then he meets Ruby, a baby elephant taken from her family, and she makes Ivan see their home – and his own art – through new eyes. When Ruby arrives, change comes with her, and it's up to Ivan to make it a change for the better."
Diary of a Wimpy Kid – Rodrick Rules
by Jeff Kinney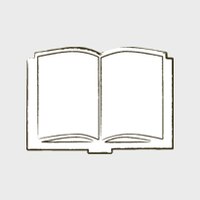 From the Cover: "Whatever you do, don't ask Greg Heffley how he spent his summer vacation, because he definitely doesn't want to talk about it.
As Greg enters the new school year, he's eager to put the past three months behind him…and one event in particular.
Unfortunately for Greg, his older brother, Roderick, knows all about the incident Greg wants to keep under wraps. But secrets have a way of getting out…especially when a diary is involved."
A Semi-Charming Kind of Life
by Suzanne Selfors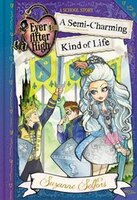 From the Cover: "Darling Charming is bored in Damsel-In-Destressing class. She'd much rather be in Hero Training with her brothers. The only thing is, she has secretly been helping her brother Dexter ace the class. If anyone finds out, a scandal would erupt at Ever After High. One of the most prestigious families in town, the Charmings have a reputation to uphold. Darling is destined to be a damsel…but this Rebel may want to decide her own destiny! Why should princes have all the fun?"
Bad Kitty gets a Bath
by Nick Bruel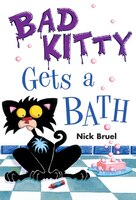 She's back. She's bad. And she really needs a bath. Unfortunately….
From the Cover (of Double Trouble): " A little kitten twinkling with magic. But he needs a purrfect friend! And that's how Kim manages to put up with her mean cousin when silver tabby kitten Flame comes to stay…"
Some of these are obviously better than others but at this age, it doesn't really mater what they read – just that they read at all. Diary of a Wimpy Kid and Bad Kitty are graphic novels, (sort of like comic books.) There are lots of pictures and they are humourous so reluctant readers might enjoy them. Ever After High challenges the status quo and The One and only Ivan showcases life, death, friendship and some other deep topics through the context of animal characters which makes kids sink into the tale. My daughter likely has close to 100 books on her shelf, these are her top 5.
An honourable mention because I know she loves this book – she read it last year so she may have not thought of it:
Fortunately the Milk
by Neil Gaiman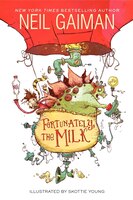 From the Cover: "I bought the milk," said my father. "I walked out of the corner shop, and heard a noise like this: t h u m m t h u m m. I looked up and saw a huge silver disc hovering in the air above Marshall Road."
"Hullo," I said to myself. "That's not something you see every day. And then something odd happened."
Gaiman is one of my most favourite authors and I love that she also enjoys his work. She read this one over and over again.
There you go folks! Enjoy shopping for new books for your kids age 7-9!

**I am a Play Advocate. As part of my affiliation with this group I receive special access to MATTEL® events and products. I did not ask my daughter to choose their book – she did so on her own and her opinion belongs only to her.