If this is your first time here, welcome! If not, you'll know that I look forward to these Thrift the Look challenges like nothing else!
As you may remember from our first Thrift the Look challenge, Sarah, one of our admins from the Creative Vintage Darling's Facebook group and blogger extraordinaire at Sadie's Season Goods, challenged us to 'thrift the look.' In this blog tour we want to show you how a magazine worthy look can be achieved with items from the Thrift Shop! As Sarah says, it's "thriftcheivable!"
This time around my inspo image came from Country Living Magazine.
I loved the dark backdrop. I loved the oil lamps. I loved the intricate simplicity of it all. As you may know, this home we are in is a new build suburban home that's quite modern. We have sleek surfaces and light grey walls. There is NOTHING rustic in here. When I heard the challenge was to be Winter Cabin decor I was pretty stumped.
But I didn't want that to prevent me from participating. While this is a new build that doesn't mean there are no projects to do. For instance, our mudroom was basically useless as it only had a wire shelf installed by the builder. We needed it to be way more functional to get us through this winter with all the gear that entails. And if I'm going to stray from the bright, fresh and modern aesthetic, the mudroom was the place to do that. Why not have a little fun in there? Right? Then I found these.
It led us here. Please forgive this photo – our room is so small and I had to use a janky clip on fish eye lens on my phone to get it all in one shot. There are better pics to follow I promise but I wanted one shot to compare to the inspiration shot.
Yep. I hung a toboggan on the wall. It was the perfect thrift shop find to stand in for the shelf in the inspo pic. And it was only $15! Next I was wondering what to do about the dart board in the magazine piece. We don't need a dart board in our mudroom! Ok, this weird little box, crate thing would be a good stand in. And the price was right. $7.50. Who doesn't need a place to put their sunglasses when they come in the house?
I didn't even paint it and I think it looks great with the similar toned wood of the toboggan, which by the way, has the perfect spot for storing umbrellas or other items.
If you're asking how this is more functional and where are we putting our coats – that's on the other side of the room. I installed some simple shelving and hooks with left over boards from when we built our garden beds in the old home up north. Man it was tough taking photos in here. I hope you get the idea.
Now, for every day life, I've moved a few things around so there is space here on the shelf to put my purse down when I walk in but I love the stag horn key holder I used in place of the real horns in the inspo pic. My friend gave me this one and it looks so good with the red oil lanterns I thrifted. One of the glass lanterns was given to me by my grandparents and I ended up finding an identical one in the thrift shop. It was meant to be. It was the same with the brass items, my grandparents gave me the eagle and I thrifted the sconces.
It thrills me to recreate a look straight from a magazine with thrift shop finds. I love to hunt down just the perfect thing and then find it's a steal of a deal. I love to get creative and push boundaries and whooooo boy. There are boundaries pushed here. Including paint and brackets and hooks and things I put this together for under $150. For a whole room makeover that increases functionality – that's pretty thrifty!
Well, that's me! Now it's time to go read the other fantastic Thrift The Look posts from our fantastic bloggers! Enjoy and then go find your own inspiration and get to the thrift shop. It's so so so fun.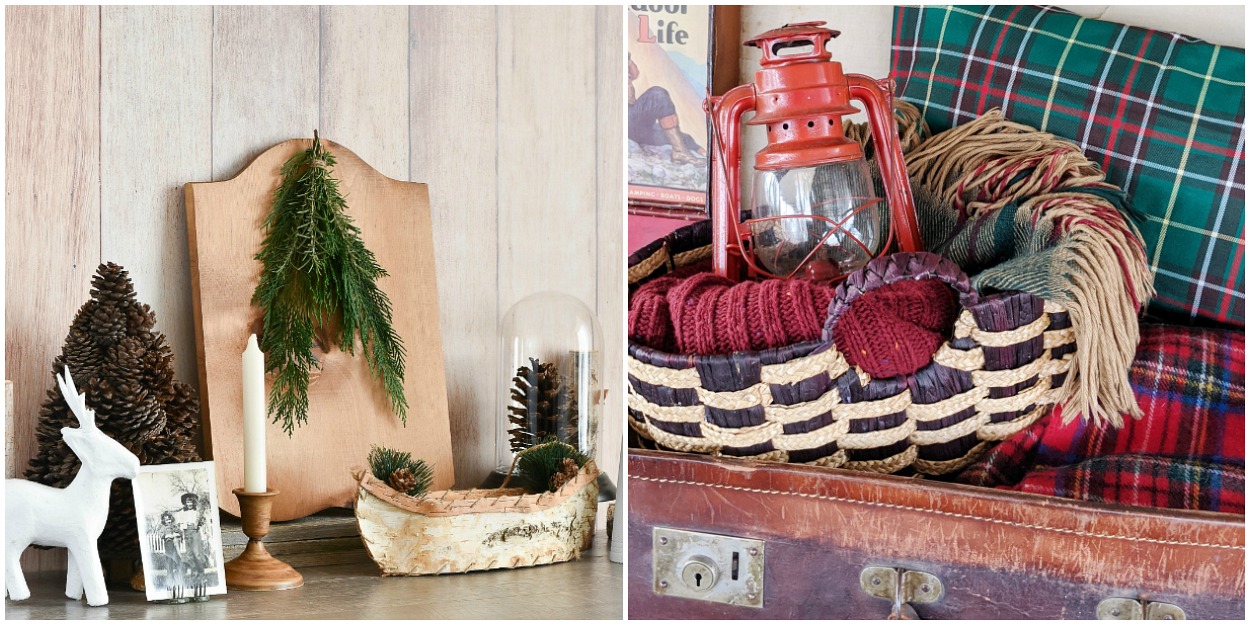 Sadie Seasongoods | Audrey Would!

Sweet Pea | Home to Heather | Little Vintage Cottage